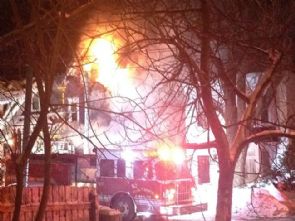 A late-night fire on Patrick Street in St. John's sent one man to hospital and has left the occupants homeless. Crews responded to the blaze around 12:15 a.m. Neighbours described seeing a ball of fire coming from the top floor of the three-storey structure. The home was attached on one side, but luckily for neighbours the fire didn't spread to the adjoining homes, although three homes were temporarily evacuated as a precaution.
The blaze at 160 Patrick Street lasted hours. The home was gutted. Captain Don Byrne says 19 firefighters from three stations responded.
There was only one person home at the time. He left the scene to be treated for smoke inhalation.
Meanwhile, the investigation continues into a fire which broke out just before lunchtime yesterday in the centre of St.John's and left a couple of people homeless. Number 12 Spencer Street incurred smoke and water damage but the adjoining property was spared, though the occupants were evacuated as a precautionary measure.
Captain Craig Cox of the St. John's Regional Fire Department says they had things under control within a short time, and that there were no injuries. The house affected yesterday is almost a block away from a house which has been struck by fire on a couple of occasions over the past few months.
And a fire on Durham Street just off Blackmarsh Road in west-end St. John's also sent a person to hospital for treatment. Byrne says it has been a very busy time for firerefighters in metro.
That home was extensively damaged and the cause is still under investigation.