Third fire in metro in less than 24 hours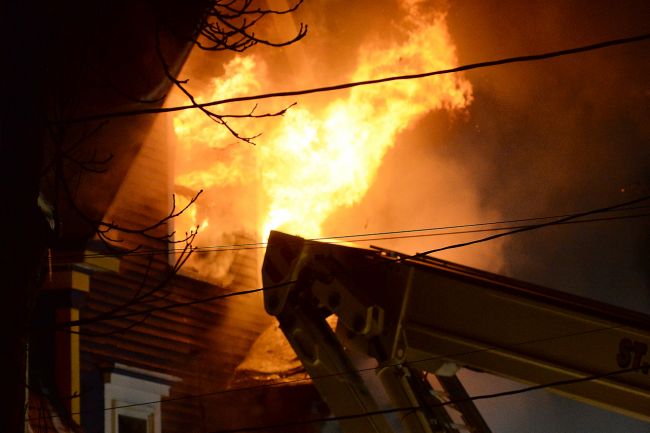 One man is being treated in hospital for smoke inhalation following a major fire at a house on Patrick Street early Monday morning.

The fire was reported to the St. John's Regional fire department by several callers and passers-by and when firefighters arrived they found heavy smoke and fire on all three floors of the house. The injured man was already out of the house when the first responders arrived. A witness said a passerby kept the man warm in their vehicle until paramedics arrived on the scene.

Supt. Don Byrne said three stations responded to the call with nineteen personnel fighting the blaze from inside and out. Firefighters also had to contend with explosions from arcing electrical wires at the front of the house until power could be cut by personnel from Newfoundland Power. The bucket truck was then deployed and the firemen could be seen both spraying large amounts of water on the house as well as cutting openings in the sides and roof to vent gasses from the fire. Other firefighters battled the blaze from inside on all three floors.

At one point  a car parked in the front driveway burst into flame but it was extinguished within minutes with several blasts of water from the bucket truck.

This was the third fire in St. John's in less than twenty four hours with two of the fires sending people to hospital to be treated for smoke inhalation.

The fire was reported under control about two hours later but the house was extensively damaged.
http://www.thetelegram.com/News/Local/2013-12-23/article-3553845/Spectacular-fire-sends-one-man-to-hospital/1