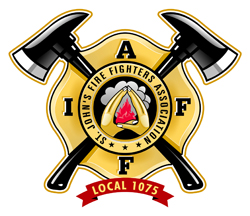 The St. John's Fire Fighters Association, International Association of Fire Fighters Local 1075 is a trade union representing more than 200+ members of the St. John's Regional Fire Department which serves the citizens of St. John's, Mt. Pearl, Paradise and region, serving a population of approximately 200,000 that covers an area of nearly 300 square miles.
In addition to the role normally thought of as  fire fighting duties, that of the protection of the lives and property of our citizen from fire, our members preform such functions as high angle, confined space, helicopter and cold water rescue, Haz-Mat and emergency medical response.
Our Association has been affiliated with the International Association of Fire Fighters since 1970. The IAFF represents more than 320,000 professional fire fighters in North America. It is affiliated with the American Federation of Labor and the Canadian Labour Congress.
Our Union represents fire fighters, communications workers, fire prevention officers, equipment technicians and members of the training division.
Our Association deals is at the forefront of health and safety for members and their families, and various community and charitable endeavours.