A week ago, Bill and Jenny Westcott were pulled from a fire at their St. John's apartment building. On Thursday, they met with the men who saved their lives. Bill Westcott welcomed four firefighters with the St. John's Regional Fire Department into the hotel room where he's staying with his wife.
He's waiting to hear news about when they will be able to return to their home at Maplewood Apartments.
Westcott was thrilled to meet the men who he calls his guardian angels. "Just imagine, this time last week we were strangers in the night. We didn't know anybody," he said. "And now we're looking at the people that actually saved our lives."
Westcott said he was struggling to help his wife get out of the building, when he saw the lights on the firefighters' helmets through the smoke.
Firefighters Richard McCrate and Robin Barrett were the two who found the Westcott's with the use of a thermal imaging device. "We got down to the end of the hallway and he [Barrett] said, 'we have two bodies here,'" McCrate said. "At that point the adrenaline and your heart races and goes mad."
According to Barrett, there was so much smoke in the building at that point, they couldn't tell if the two people they found were alive or dead. Barrett took Bill Westcott out of the building, while McCrate stayed with Jenny Westcott until Barrett returned to help get her out.
The Westcott's were able to sit back and laugh with the men who saved them, but said they won't soon forget what they did for them. "Their main idea was to save our lives, and they did it. They did it," Bill Westcott said. "Thank you for the rest of my life."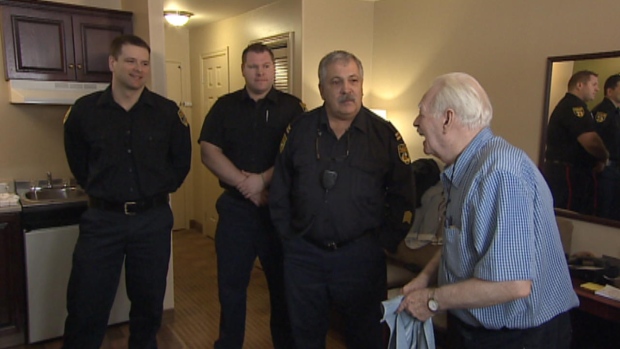 http://www.cbc.ca/news/canada/newfoundland-labrador/shaw-street-residents-thank-firefighters-who-saved-them-1.2554128